The Who's "Tommy"
See it! Feel it! Touch it!
Falcon's Eye Theatre at Folsom Lake College in the greater Sacramento area is currently running a production of The Who's "Tommy" that is professional on every level. The band (Kenny Manlapig-guitar, Verna Brock-bass, Nic Valdez-keyboard, Dana Wendel-drums), the sets, and the lighting are all exceptional, and within seconds you will forget that this is a college production.
The casting is perfect, even down to the 4-year old Tommy and 10-year old Tommy. Dominique Dates nails her role as "The Acid Queen." I've only seen the film version of "Tommy" with Tina Turner playing "The Acid Queen"...so I wasn't expecting anyone to best Tina's performance, however Dominique owns the stage and her role. Seventeen year old Evan Martorana leaves no doubt that he IS "Tommy." I could continue to give similar accolades to every member of the cast.
The show has been selling out, and at last Saturday night's show, they had to open the balcony section because so many people came to see it.
There will be three more performances at The Harris Center Theatre, Thursday April 21st at 7:30 P.M., Friday April 22 at 7:30 P.M., and Saturday April 23 at 2:00 P.M. Doors open thirty minutes prior to show time.
THE MONKEES 50TH ANNIVERSARY TOUR!
If you don't already have
your tickets for
The Monkees 50th Anniversary Tour,
we have provided ONE
of the many links
to purchase them
by clicking on the photos.
We have also provided a link
to purchase
The Monkees first NEW RELEASE IN
WENTY YEARS!
"Good Times" is available in
CD format, as well as vinyl!
Click on the album image
to purchase it.
The Nitty Gritty Dirt Band
50th Anniversary Tour. They began their career with
The Smithsonian Institute as one of the most important albums
of American Music. The Nitty Gritty Dirt Band was one of the
first American bands to tour Russia in 1977.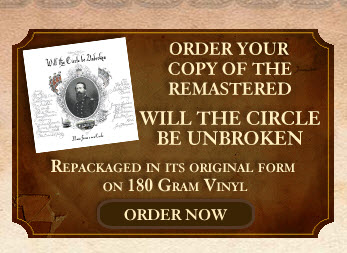 Nathan grew up surrounded by a mix of professional country
and rock musicians, and his songs reflect that influence.
His lyrics are insightful, at times funny, and at times poignant.
Starting his solo career in 2005; with the release of his first full length record "Grand Design," to present day, Nathan McEuen has written nearly 80 songs, produced five full length records, and has independently sold over 60,000 CDs. The past 10 years has been a non-stop musical adventure filled with over 2,000 live shows across the U.S.A., Canada & Europe with highlight performances including: The Grand Ole Opry (3 times), American Idol (w/ Steve Martin), The Tonight Show (w/ Hanna-McEuen), Music City Roots, XM/Sirius Radio, iTunes, Yahoo.com's Ram Country, Voice of America Radio, Woodsongs, The Stagecoach Festival and climbing to a #1 spot on Amazon.com's Americana chart with his collaborative effort "The McEuen Sessions."
​ While growing up on the road and traveling around the world with his father John McEuen (of the Nitty Gritty Dirt Band), Nathan's first big solo performance came at 14 years old when he was asked by his father to sing a song and play guitar at the Olympic Bid Party for the International Olympic Committee in downtown Salt Lake City, on March 17, 1995… Nathan's father is known for going big, but Nathan had no idea until he arrived at the venue that he'd be performing outdoors at the Gallivan Center for over 15,000 people, his face would be on a Jumbo Tron and that he was opening for John Denver. It was this experience that would forever change his life…
Nathan had an early start on his star-studded career. Through the years he has had the good fortune to open for, perform or work with various artists such as: John Carter Cash, David Crosby, Graham Nash, Jim Messina, Dave Mason, Chris Hillman, Dwight Yoakam, Carrie Underwood, Brad Paisley, Lyle Lovett, Avett Brothers, Leon Russell, Steve Martin, John Oates, Vassar Clements, Kevin Nealon, Willie Nelson, John Denver, David Grisman, Bob Schneider, Sara Watkins, John Jorgenson, Brett Dennen, Crosby Loggins, Kenny Loggins, The Dillards, Hanna-McEuen, Riders in the Sky, Billy Bob Thornton, The Grascals, Van Dyke Parks, Jennifer Warnes, Laurie Lewis, Chelsea Williams, Jesse Siebenberg, Chris Caswell, and Mario Calire to name a few…
With over 2,500 live shows, 20 years of touring, and nearly 80 songs penned, Nathan McEuen's heritage, passion for original music, entertaining and performing is evident in every song, and is best experienced through his live shows and on his newest record "Side by Side" (Mesa BlueMoon Recordings).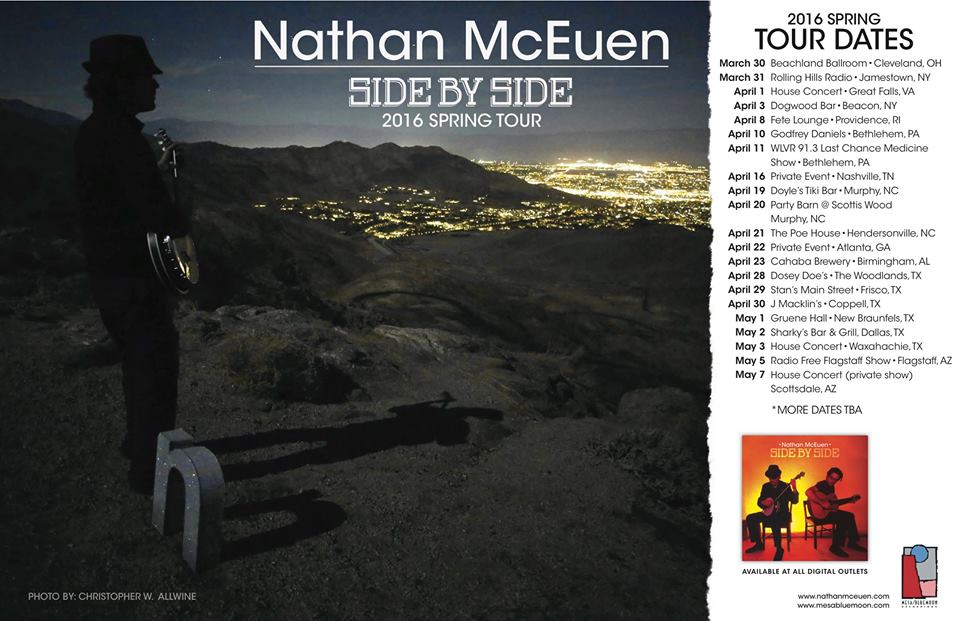 The Salty Suites will be appearing on Thursday, April 28, 2016 at Bob Stane's house of music, the Coffee Gallery Backstage. It is their delight to have young singer songwriter Julia Marshall opening for them, and those who saw here on her first appearance were full of great comments so they are so happy to have her back.
CD number four is nearing completion so come and dance and sing with them about whiskey, broken hearts, death and funerals... Uplifting stuff... Call for a reservation folks as they DO fill up!
Reservations/Information: (626) 798-6236 between 10 A. M. and 10 P.M.
Come to Bob's house for a great night of music and community.